Swim With the Dolphins in Panama City, Florida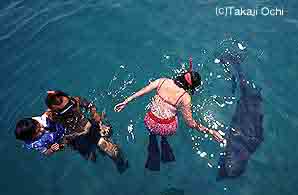 One Day Swim with the Dolphins Program
Schedule: 7 Days a week - March through October
Morning and afternoon dolphin swims. The dolphin swim experience in Panama City lasts 4 hours.:
9:00 AM or 1:30 PM: Snorkeling gear and personal flotation devices fitting. Paperwork. Orientation by Water Planet staff. Education on dolphin physiology and social life. How to swim with wild dolphins, information on bottlenose dolphin behavior and proper etiquette for interaction, safety guidelines before you swim with the dolphins
Dolphin swims and (optional) walk on Shell Island, and marine ecology wet lab (Water Planet staff dives for different forms of sea life: crustaceans, mollusks, fish, etc. and brings it back on board for viewing and identification before release).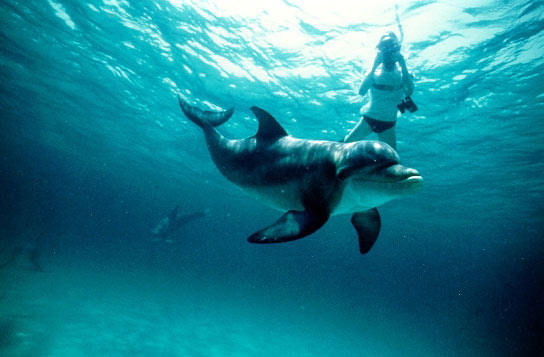 The Price of the 1-Day dolphin swim program is $98 (US)+ tax per person
Why should you book with us and not with our competitors ?

We are the oldest and most experienced wild dolphin swim facility in Panama City (since 1995).
Unlike on our competitors boats, in addition to the captain, our boats have crew (between May 01 and August 31). By request and based on availability, our specially trained staff will be on board and will get in the water with you and help you and/or your children with your experience.
Thanks to our collaboration with marine biologists and thanks to our experience with educational programs in the schools of Bay County and with various girl and boy scouts groups and church groups, we will actually educate you and your children on wild dolphins and their social life for a more enjoyable, more respectful and safer experience.
Unlike with most of our competitors tours, the owner of our company is also a boat captain and is actually on the water every day implementing the comprehensive programs.
We are proud to be among the few operators who DO NOT FEED OR PET WILD DOLPHINS CLICK HERE TO READ WHY
The price includes dolphin swim excursions, animation, lectures and dolphin educational package, free bottled water on board.
Read testimonials
Children are welcome to participate in our dolphin swim programs. Our staff has years of experience with helping children in the water during their dolphin swim and on board the boat. Your children will love the close proximity of dolphins and will probably remember the experience for the rest of their life.
We have deep ladders to make it easier for you to get back up on board from the water after each dolphin swim. All our boats are equipped with double shades.
You are welcome to bring your own cooler if you wish.
Booking procedure is as follows:
Either 50% down to hold reservations.
Or credit card information as a guarantee. We do not charge your card. You have the choice of payment (card or cash) when you get to the boat.
Equipment:
Bring your own snorkeling gear or rent it with us for $5.00 (+ tax per person).
Notice:
Water Planet cannot guarantee interaction with wild dolphins nor ideal weather conditions. Trip fees cannot be refunded due to adverse weather or absence of dolphins.
Water Planet will replace your dolphin swim excursion if the dolphins do not show.You get to do it again for free.
Cancellation Policy: All cancellations for the dolphin swims must be received by telephone - no voice-mail - or in writing (e-mail, post or fax).
24 hours no penalty.
Less then 24 hours: Full charge.
Should you arrive more than 15 minutes after the appointment time your card will be charged and the trip must leave without you.
Should you not notify us 24 hours ahead of time of a downward change in the number of participants in your party, you will be charged for the number of passengers you have signed up originally
No show: Full charge
WHERE IS PANAMA CITY BEACH? - LOOK IT UP ON THE MAP
1 Day educational Wild Dolphin Swim Programs are offered March through October. Check with us for availability!