Dolphin Therapy – The Serenity Program – Page 2
Children with Special Needs Swim with Dolphins in florida
Since 1999, the joint efforts of Water PLanet and Unique Therapy Services (formerly Excellence in Therapy), a dynamic Atlanta based company headed by Pam Davidson P.T. and Tim Davidson, are bringing together special children and dolphins. We are making it possible for families of special needs children to spend a fun and memorable experience at the beach while focusing on their children's special needs. Three trips are spent on the water of the Gulf of Mexico, along the beaches of Shell Island where everyone will get in the water and get acquainted with sea critters ranging from starfish, seashells and puffer fish to the local wild bottlenosed dolphins, who will often come right up to the children and adults to find out what they are all about. It is the dream of many to swim with the dolphins.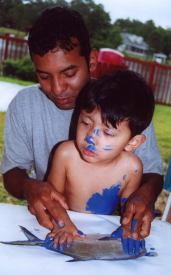 During the scheduled daily therapy sessions, the families will go through different stations staffed by qualified physical therapists,occupational therapists and massage therapists who will work with each family on their child's range of motion, relaxation, muscle tone and communication skills. They will help on improving techniques and strategies (psychological and physiological) for the parents and the child's management of their daily life as a family with special needs. The kids play with different shapes and media like paint, clay, feathers, seashells, etc. and are encouraged to recount their encounters with the dolphins and with the ocean.
Music is also part of the activities. It gives kids the chance to feel or respond to the stimuli of rhythm and sounds.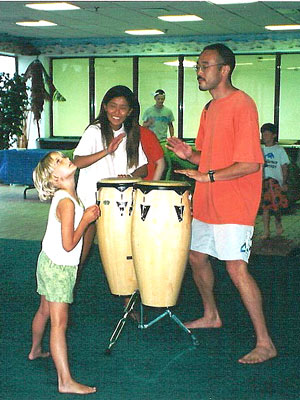 We still have availability in 1 specially coordinated children and dolphins programs during the spring/summer of 2020.
Programs Dates
Sunday 07/12 – Wednesday night 07/15
Who can participate in this vacation?
Selected children, at least 3 years of age, who must be able to participate in a variety of activities everyday, including 3 hours of therapy each day and up to 4 hours on the boat. Space is limited to 4 children and their families per group. Each child slot also includes 1 accompanying adult. Other family members are encouraged to participate in many of the activities.
The children and dolphins programs are designed to provide the maximum amount of therapy, fun, dolphin encounters, social time, and R&R.
Space is limited. Please book early. Please call (850) 230-6030 or (toll free) (866) 449-5591 or e-mail info@waterplanetusa.com for details.
For questions relating specifically to OT, PT, SLP and for insurance coverage issues, please email Beth Lowe-Dietrich, PT, DPT