The Water Planet team is proficient in marine ecology, seamanship, psychology, recreational therapy, sensory toning therapeutic techniques, bodywork, expressive arts and music. Their social and linguistic skills, developed in contact with a broad spectrum of cultures and ethnic groups is certainly an asset in favor of your experience.
The facilitators of Water Planet do not pretend to have the knowledge and the qualifications needed to solve the ecological and existential problems this world is facing, but with their combined experience and skills they will help you with your approach to understanding your bond to nature and its deeper meaning.
---
Denis Richard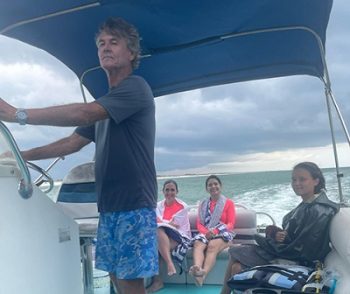 Denis was born in 1950 in Switzerland where he spent the first 20 years of his life. He studied Literature and Languages, then left his country on a continuous field trip for the study of various foreign cultures and ethnic groups. Between 1970 and 1982, his travels took him first to Greece, Turquey, Iran, Afghanistan, Pakistan and India. He then moved to Spain where he lived for 8 years during the summer and fall. He spent the winter and spring seasons in Africa in Manda Island on the North Kenya coast. learning Kiswahili, with the Bajunis who taught him local handicraft, indigenous coral reef ecology and how to survive using the resources of the ocean and of the African Bush. An avid sailor, he embarked on a Trans-Indian Ocean sailing expedition out of Mombasa to India via the Seychelles. He worked as boat Captain and salvage diver in the Maldive Islands and ended his trip in an Ashram south of New Delhi to investigate an interest in eastern spirituality and religion.
After starting a Hotel-Dive operation in Jamaica in 1983, he came to the United States to continue his education. He became a naturalized citizen. After 3 years of commercial fishing in Alaska, Denis felt the need for a different approach to the management of our planet's resources. After an attempt to start an awareness project related to dolphins casualty in the tuna fisheries in Central America, he worked for four years as executive director and then as president of a wild dolphin project in Panama City Beach, Florida between 1995 and 1999. setting up and implementing education and awareness programs in the schools of Bay and Walton County.
Since 1999 he is President and founder of Water Planet. Together with his wife Nathalie and his staff, he has developed programs of self-improvement for the general public and for families of children with special needs. The Water Planet Tours are geared toward environmental awareness and conservation.
---
Nathalie Richard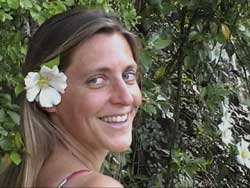 Nathalie was born and raised in Kinshasa, Republic of the Congo. She completed her higher education in Belgium where she obtained a Masters degree in Clinical Psychology at the University of Louvain. Her Masters thesis is on "Therapy with Dolphins," a critical analyses of several research works on mentally disabled children.
Nathalie is also a certified physical education teacher. She is a graduate student of "La Source – School for the Applications of Aquatic Welfare Techniques." She is continuing her education to become a "Water Babies" instructor.
Nathalie first swam with dolphins in 1992. Her experience shaped her whole career orientation. She did a 3-month internship in Panama City Beach, where she met her husband Denis Richard.
She has published educational books for children and after developing special dolphin-encounter programs involving sensory toning techniques for children with disabilities. Nathalie has shared her time as a full time mom with studying photography. She does most of the topside photography for Water Planet.
Nathalie is co-owner of Water Planet.
---
Chloe Hanson – Cooper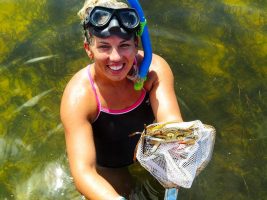 Chloe is a native of Austin, TX. She has been involved with Water Planet since she was an intern during the summer of 2013. She served as the Therapeutic Programs and Intern Coordinator for the years 2015, 16 and 17. Chloe comes to us with a unique background having experience in developing special needs programs for non-profits, neurodevelopment therapy, behavioral therapy, and social integration. She has relinquished her responsibilities as Water Planet's Coordinator and now spends the majority of her time devoted to her recently opened company, Find Your Sunshine. Her Austin, TX based company provides individualized therapeutic services to children, teens, and adults with special needs. In addition, Chloe has started her own non-profit organization, Social Bridges, focusing on closing the social gaps for people with special needs and their peers.
Chloe has a special attraction to the ocean and children and loves serving with Water Planet to bring those two passions together. Along with Chloe's experience with the special needs population, come experience in the water. She teaches swim lessons specializing in integrated classes for children with special needs and has been in the ocean since childhood. Chloe is now a consultant on the Water Planet Advisory Board and strives to ensure the quality of the experience families receive in their time with Water Planet.
---
Kristen Kanaras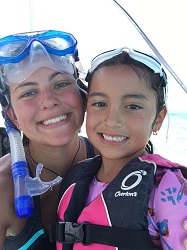 Kristen is from Fallston, Maryland and found Water Planet when she was looking for internships involving animals and children with special needs. She interned with Water Planet in 2019.
She returned as one of the customer care managers in 2020 and served as the Therapeutic Programs and Intern Coordinator in 2021. She has always loved working with children. She also loves combining that passion with the use of animals.
In high school she volunteered at a Therapeutic Riding facility working mainly with children from the Maryland School for the Blind. She has taken classes in child development and is pursuing a degree in Recreational Therapy. Kristen has also worked as a therapeutic assistant at Kennedy Krieger's Institute Center for Autism working with children. She is currently a para at Northwest Florida Academy working with children with special needs.
She loves spending her summers with Water Planet and all of the amazing staff and families.
---
Whitney Dominick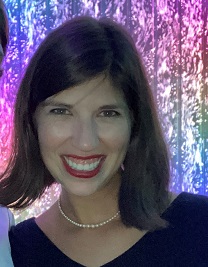 Whitney was born and raised in Boulder, Colorado. While originally interested in veterinary medicine, specializing in big cats, she eventually decided that wasn't a practical career path and switched her focus to psychology. After completing her bachelor's she worked at a residential treatment center for children with emotional and behavioral disorders. During her time there she saw the impact of the animal-assisted therapy (AAT) program and realized that AAT was a way to blend her love of animals and her love of working with this population of children. Because the empirical benefits of AAT were not well-documented, Whitney decided to pursue AAT with a focus on research. While preparing to apply to graduate programs, Whitney participated in a volunteer research program tracking dolphins in Belize and was lucky enough to get to swim with the wild dolphins. The experience of spending time with seven wild dolphins was life-changing, and Whitney quickly realized that this type of experience could also be life-changing for the children she worked with. With that, Whitney decided that wild dolphin therapy for children with emotional and behavioral disorders, while not more practical than big-cat veterinary medicine, was what she wanted to do. Whitney moved to Michigan and attended Oakland University, where she earned a certificate in Animal Assisted Therapy in 2017 on her way towards her Ph.D. Whitney found Water Planet while exploring different dolphin interaction programs for her dissertation research and immediately realized that Water Planet was doing almost exactly what she wanted to be doing. Whitney interned with Water Planet in 2018, where she collected data both on the therapy program and the day trips for her dissertation. Whitney earned her Ph.D. from Oakland University in 2020, focusing on how different types of interactions with dolphins impact children.
After graduating, Whitney and her husband moved to Panama City Beach to continue collecting data on the impact of Water Planet's therapy program for children with developmental disorders. In addition to data collection and teaching, Whitney has established a non-profit aimed at helping fund a research-based therapy program collaborating with Water Planet and designed for children with emotional and behavioral disorders. Please visit H.O.P.E. Research and Development Foundation and Nonprofit
---
Grace Lindsay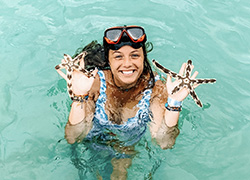 Grace grew up in West Virginia and always had a dream to work with marine life. Being from a small town 300 miles from an ocean, she decided to take a different path and get her degree in exercise science while playing soccer at West Virginia Wesleyan college. It was not until 2019 when grace was an intern at WaterPlanet that she felt her dreams of working with marine life came true. Along with swimming with dolphins and learning about various marine life, grace also has a love for working with children. Grace says that she is "a big child" and loves running around and playing with them. Since grace completed her internship, she then went on to working as customer care manager for Water Planet since 2020. Grace is also staffing the Water Planet Dolphin Therapy programs. Grace plans to get her certification in personal training then attend physical therapy assistant school and work in a facility providing physical therapy for kids with special needs
---
DeAnna Bay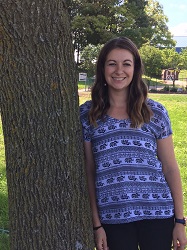 DeAnna has been involved with the Water Planet team since 2009 and is delighted to serve as a Therapeutic Programs Consultant. DeAnna was originally an Intern and then served as Therapeutic Programs and Intern Coordinator for 3 years. DeAnna pursued her Bachelor of Science degree from Wagner College in New York City in Psychology and Spanish and her Master of Education from Springfield College in Springfield, MA in Child Life and Therapeutic Recreation Management. Currently, DeAnna has completed a Certificate of Advanced Study in Global Health and is pursing a doctorate in Human Development and Family Science at Syracuse University. DeAnna has obtained certifications as a Child Life Specialist (CCLS), Therapeutic Recreation Specialist (CTRS), Infant Massage Instructor (CIMI), and yoga instructor (200-hr CYT). DeAnna also currently adjuncts for Syracuse University and works as a Recreation Therapist for a crisis respite center for children and youth in Upstate New York where she is excited to continue research, education, and programming that combines all of her interests.
---
Genevieve David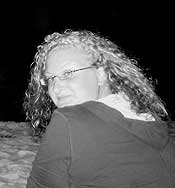 Genevieve was born in Montreal, Canada in 1978. At age 9, while watching a movie about the bond of friendship between a young woman and a dolphin, she realizes that her life has to revolve around the ocean and dolphins. However, the opportunities are scarce in her parts of the world to get closer to her dream. After an attempt at literature and biology, she decides to complete a Baccalaureate in Child and Youth Care Work (Psychoeducation) at the University of Montreal and specializes in the behavior of children with PDD (Pervasive Development Disorders). It is during her third year of University that she re-discovers the dream she had as a little girl. She finds Water Planet after several months of looking for a facility offering encounters with dolphins in a manner that is compatible with her deep love and respect for animals. Genevieve signs up to a one-month session of the 2004 Water Planet Internship Program. This opportunity allows her to set the foundations of her Masters degree thesis and to design a research protocol. In the summer of 2005, she returns to Water Planet to conduct her research project: "The impact of the Water Planet Harmony Program on the adaptative behaviors of children with pervasive developmental disorders". In 2006 Genevieve functions as Internship and Research Coordinator for Water Planet. Together with the Water Planet management, she sets up and implements the new interns training program and continues her research data collection. Genevieve successfully completed her Masters Degree in June of 2007. She is presently working in a psychiatric hospital for children where she helps youths with PDD. Because of a lack of conclusive research on the impact of the interaction between children with PDD and dolphins, Genevieve has developed her own research focusing since 2004 on the children, who participate in Water Planet's Harmony Program. Genevieve is now a consultant for Water Planet.
---
Glenn Faust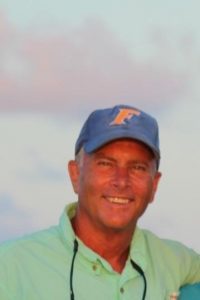 Glenn is a life long Panama City Resident and retired Life Science and Biology Teacher of 35 years. Glenn attended the University of Florida and graduated with a B.S. in Zoology, with a minor in Education. While working as a Life Science teacher, he along with others developed a coastal beach ecology program called Wet Week. This program allowed 7th graders to explore, learn, and use marine biology equipment, seine nets, yabby pumps and screens, triangle head nets and screens, and water quality tests. This allowed students to collect different types of marine organisms that live in the Gulf of Mexico, in particular along the shore.
A second program he helped develop was Bay Day, which allowed students to study Sea Grass habitat in the bay area. Sea grass is vastly important for marine organisms to grow and develop. In both programs, students caught, examined then released fish, crustaceans, mollusks, polychaete worms and other organisms that live in the sea grass habitat and coastal beach habitats.
Glenn officiates high school wrestling, and helped to establish the Northwest Florida officiating association, along with coaching wrestling and football at the high school and middle school level. For his work in wrestling, Glenn was inducted into the National Wrestling Hall of Fame- Florida Chapter in 2016 for lifetime service. He was selected as 2014 wrestling official of the year for Florida.
Glenn is an experienced deep sea fisherman, hunter and outdoors man. Glenn ran his own boat as a commercial fisherman at one time. Often, he still fishes offshore for grouper and snapper. He enjoys running on the beach, biking, and hiking out west.