Testimonial by Susan Sunden from Michigan (mother of Trevor, who has attended a Harmony Program in June 2015)
I can't tell you enough how grateful I am to have been involved in the Water Planet Program this week. Thank you all so much. From an academic perspective the program really gets my thoughts and ideas moving toward more collaboration and possibly research in the future. I absolutely want to continue sending students your way! Let me know what your ideas are.
From a "mom" perspective I want to thank you thank you thank you for helping my Trevor push through his sensory issues, resistance and refusals. I know you understand these are rooted in his desires to "keep safe". It is very difficult to not react to his refusals and anxieties in negative ways, especially when the child is an adolescent. I think you and your whole staff did an excellent job of de-escalating Trevor, giving him time, and helping him to feel in control enough to actually get in the water. Wow. What an amazing moment. I have to confess I felt quite emotional. Thank you from the bottom of my heart. Moving through an experience like this is empowering and esteem building for Trevor. He said to me on the way home: "Mom there were no sharks!" and "I wasn't scared at the end…it was just itchy from the salt." We talked about how afraid he was at the beginning of the week, and by the end of the week he was not. He understands he went through something difficult and came out the victor on the other side.
YOU and your staff/program made that possible.
With deep appreciation,
Susan
Susan Sunden, M.Ed., CTRS
Affiliate Professor/Placement Coordinator
Grand Valley State University, College of Health Professions
Department of Diagnostic and Treatment Sciences
Therapeutic Recreation Program
---
Testimonial by Roxanne Fanelli from NYC (mother of Antoinette, who has attended a Harmomny Program in August 2004 and another Harmony Program in 2005)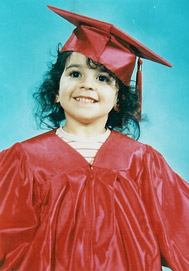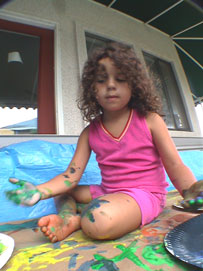 Hello,
Of course we will be back!!!! I will give you the exact dates, because Elena and Stephanie (interns) also want to come the same time we come. My parents and son may also come. I don't know for sure. I was thinking of driving but again I don't know how much she can handle. The plane was ok but she threw up. I have to see what I am going to do, but YES YES YES we will come back.
I have been so worried about you guys. I saw the pictures of the hurricane and I hoped you guys left and were safe. Are you guys ok?? Did the hurricane damage your home?? I hope not. Did the hurricane destroy where the kids did arts and crafts?? The hotel?? Or was it by the restaurant where the boats where docked?
I really wanted to thank you and I am going to send you some pictures of Antoinette while we were in Panama City. She started a new school and was supposed to be put into an autistic class. She is too advanced for the autistic class so her school placed her into a regular kindergarten class with 25 kids and she has a teacher who is with her throughout the day. She is so much better. I have also put her into a music class for kids with special needs and she LOVES IT. She also puts her hair up into a ponytail.
Denis, I truly believe your program helped her. I don't know how else to thank you and Natalie and even your daughter Marina. Antoinette still watches the DVD and remembers everyones name, especially you. When we got back she was saying Denis constantly now every once in a while she says "I want Beach" or "I want go boat" or of course "Denis". I made her room into a dolphin room. I just need to get a mural or a huge picture of dolphins and she will be set.
THANK YOU SOOOOOOOOOOOOOOOOO much I will give you the date as soon as I find out with her school what's better. Give your son and Nathalie a hug and of course one for you too.
Roxanne Fanelli
---
Testimonial by Ann from Sweden (mother of Smilla, who has attended a Harmomny Program in May 2009)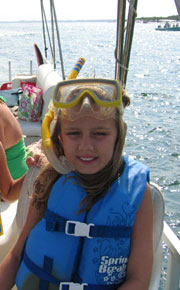 Hello Denis! Do you remember us? Smilla and Ann who attended a program in May last year? Just want to say 'hi'! I have been on my way to write a thank you mail to you ever since we got back from Florida. Thank you soo much! We had a good time and it was a good program for Smilla. She had a great experience during the whole week on your program. She talks about it a lot. It was also very good for me! I am happy we went and I am grateful. You are doing something great! On this side of the earth we are fine. Smilla finally starts a new school on Monday in a small group which I hope will be good for her!! It feels a bit scary but we have to jump… She is not in the right place yet so we have to try. It will be good pedagogically and to have her in a more calm place but sad to leave friends… Personally I feel much stronger, calmer, happier and more trustfull now. I hope all is well with you and your family. I would love to come back again one day! Maybe? See you then… With much love and gratitude,
Ann & Smilla
---
Testimonial by Tanya from Tennessee (mother of Jake, who has attended a Harmomny Program in June 2010)
Hello Denis,
We cannot thank you enough for what you do! I can say that being with the dolphins was a life changing experience not only for Jake, but for the whole family. Garrett said it was the "best adventure ever". And I can tell you that Jake's language has increased and so far, it's staying! Wanted you to have this book of his poems – the first poem is the one he wrote about a week or so after we returned home from camp.
Thanks again and
Love to you all here!
The Statums
Harmony Program June 2010
---
Testimonial by Helen from the UK in response to an inquiry made by a mother interested in our Harmony Program for her son. Helen is the mother of Alex, who has attended a Harmony Program in June 2003
Hi Sue,
I'm not on commision for this!! lol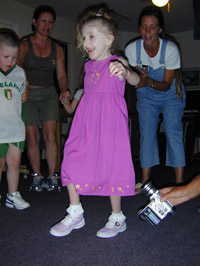 Our experience with Water Planet was fantastic, though the other family that was there at the same time as us, I feel did not get the same from it. The parents did not go out on the boat much, the little boy went with his grandmother. He had a mental disorder I think that was degenerative. Whereas my daughter has Coffin Siris syndrome, she is developing but slowly, she had very little speech when we went to Panama City Beach. Since then it has developed in her speech and her memory has improved also, she was able to remember things from before the summer holidays. Something she had never done before. Alex is a sociable kid and loved every minute of the holiday. She is very active and has to be watched 24/7. There was one incident, she had been restless all the way to the place where they swim, she was relutant to go in the water. When she came out of the water she was very quiet and sat still all the way back (20mins). Denis said that she looked as though the dolphins had gotten to her.
I really can't comment on your step-son but if you decide to go, participate in everything that you can! even the adults had the chance to experience the activities that were set up at the hotel, where you will probably stay. They made clay pictures, sand art pictures, face painting (all of these items were brought home as souvenirs), massage, water therapy. The dolphin experience was something that you can never forget. I think it depends on whether you are willing to experience things, if you just want to sit back and watch then I do not think it is worth it. We were willing to help carrying equipment etc and just generally try to interact with the groups. The people that were helping were students but they were fantastic and made the trip well worthwhile. Denis and Natalie are very very friendly people, you couldn't wish for better people to go out swimming with the dolphins.
I have just been back to their website and noticed the testimonials. It's great that you can read their experiences.. Maybe ours could be there too?? "Your children will love the contact with dolphins and will probably remember for the rest of their lives. " I would go again if I could. I hope this helps somewhat, maybe it doesn't ?
Kindest Regards Helen
Helen
---
Testimonial of Viki Ainsworth from the UK (mother of Tilly, who has attended a Serenity Program in July 2004)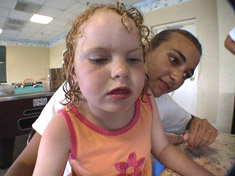 Hi Denis
We're back home safely, a little jetlagged and trying to work out whether we should be eating breakfast, lunch or dinner, but all feeling great after a wonderful time in Florida.
Thanks so much for everything, Tilly had a fantastic time and so, therefore, did we. We were so impressed by the enthusiasm and professionalism of the staff, and by how smoothly things ran. I really wish we could do the serenity programme every year!
take care,
Viki
---
Hello Denis –
We cannot thank you enough for what you do! I can say that being with the dolphins was a life changing experience not only for Jake, but the whole family. Garrett said it was the "best adventure ever." And I can tell you that Jake's language has increased – and so far it's staying! I wanted you to have this book of his poems – the first poem is the one he wrote about a week or so after we returned home from camp. Thanks again and love to you all there!
The Statums (attended a Harmony Program)
---
Testimonial by Patti Solomon from Atlanta, GA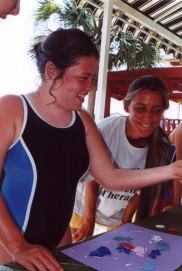 Swimming with the dolphins with the help of Water Planet is not an amusement ride that you pay, spend an hour, take some pictures and go home. Swimming with the dolphins in the surf of Panama City is a lifetime experience and memory — letting you into a world you cannot imagine. There is no place that my family has encountered such a dance with nature while enjoying friendship, love and true acceptance.
No excuses, no pretending, our family could be who we are.
Jessie, our fifteen year old with autism, squeals whenever she wants and that is OK — especially with the dolphins. These beautiful mammals are attracted to her sounds, which often make people on land stare. In fact, as we dove and swam circles with the dolphins underneath the water one would always pop above the surface to find Jessie and move his nose up and down sounding his sonar.
The combination of the staff from Excellence in Therapy from Atlanta and Water Planet is the most professional team of experts a family could ever expect from watsu massage to music and art to physical and occupation therapy work outs. The program treats the entire family — not just the child with difficulties. We all have our issues and after a week with these people the world always seems a bit clearer.
A big lesson for all of us is patience. We wait for the dolphins to come to us and there is no bribing with food. It is on the dolphins' terms. How many things do we rush to do or buy immediately. Learning we cannot control everything is a wonderful lesson for all of us. We always come home a lot healthier than when we started.
Jesse also has made improvements in concentration and calmness on both trips. And, it is one of the few things that still gets her attention. A picture of a dolphin, a movie….she comes alive!
I suppose that is why the trip to Panama City is our tradition. We are heading back for a third year and cannot wait to dive in and dance!
Patti Solomon
---
Testimonial by Buffy Atkins From Michigan
We are still talking about our dolphin experience…we had an absolutely wonderful time. I picked up some photos today and have one with a dolphin blowing a bubble…I think…I plan to send you some copies of the best ones.
The art therapy, massage and dolphin encounters were such a positive thing for Abe as well as Cary and Jay. He trusted you and he was so accepted.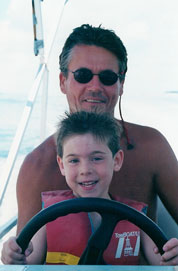 Abe's behavior since we have been home has been so calm. He is following directions, is listening to requests, helpful, caring and considerate. He is different…in a very good way!
Cary has shared a lot about her dolphin encounters. She tells others about putting her face in the salty water and seeing the dolphins.
Abe has been very aware of the litter in our world since our visit. He was talking about the birds that might eat the plastic and get sick…a direct result of his conversation with Denis and the experience of picking up the litter in the ocean. He has shared with his teachers that they need to pick up the litter outside their playground. Another person to help keep our world clean.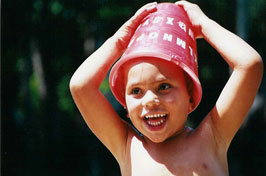 Jay has made some extraordinary changes. He has talked to peers and teachers in conversations…has told them he was in the water with wild dolphins …identified the adults in the pictures with him…he has used his chewies less…and is very happy. Jay gets excited when I show him the pictures of the dolphins and spots the fins just topping the water…saying "dolphin,dolphin." In OT yesterday, he played in a mix of foam, beans and other media…..for a 10 minute period of time…a first! I noticed him paying very close attention to the sights outside the car on our way home…pointing out trains and trucks…also something he has not done in the past.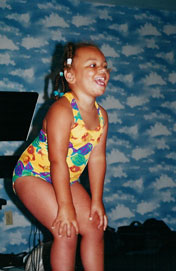 My own experience with the dolphins and your organization has had a positive impact. I came home thinking about the changes I want to make for myself…and have had more energy to accomplish some things that I have been putting off. I have a better, more relaxed attitude about the challenges I have in my life. I am so very glad we came to Panama City beach and Water Planet.
I am looking forward to a return trip. Cary, Abe and Jay would like to come back next week! Thank you so much for the very personal, exceptional 3 and a half days!
Buffy
---
Here is a report by Pam Davidson, an owner and Director of EIT, on how she and her company became involved with dolphins and with "Water Planet".
The Therapeutic value of "Excellence in Therapy" – "Water Planet" Dolphin Encounter Programs.
Excellence in Therapy is a privately owned pediatric therapy practice providing Occupational, Physical, and Speech Therapy services. Pam has over 23 years experience as a therapist working with children who have special needs. Services are provided in the child's home, at our clinic, and in an aquatic setting.
Relying on her strong background in neurological & sensory training, Pam, who is NDT trained & certified, has endeavored to approach the therapeutic needs of children by incorporating special training / techniques such as Myofascial, cranio sacral, aquatics, and sensory integration into her practice. Her life long love of the water led her to develop the most unique aquatic therapy program that is serving over 100 children through their programs in the metro Atlanta, Georgia area. EiT has several licensed therapists on staff who, along with Pam, make our program successful through our unique, holistic therapeutic approach. Incorporating land & water based therapies with our excellent staff yields success in our children and changes their functional abilities.
Pam was introduced to the special experience of swimming with dolphins and their therapeutic ways in 1995. Since that time she has pursued dolphin encounters in many locations, such as Mexico City, Cancun, Hawaii, Mississippi and Florida.
In 1998, while on vacation at Panama City Beach Florida , Pam along with her husband and business partner Tim, were introduced to Denis Richard of Water Planet. (Denis and his staff have been actively involved with the wild dolphin population around PCB for years. These coastal bottlenose dolphins have been studied & have interacted with humans for over 25 years.) Denis personally took Pam & Tim out to experience an encounter with wild dolphins. It was here that Pam & Tim discovered the wonder & delight of swimming with dolphins in the wild. They brought a sense of calm & understanding, while showing grace & power. Pam & Tim believed immediately that adding dolphin encounters to EiT's repertoire would be a wonderful & therapeutic experience for the children, in a most unique way.
Pam & Tim, and Denis created a special relationship & designed a collaborative Dolphin Adventure program to bring children with special needs to PCB to receive intense aquatic therapies and go on dolphin encounters. EiT ran its first program in the summer of 1999 with six families. It was a great success and the positive responses by the children and their families have been very exciting & encouraging.
This innovative program combines the staff & resources of Excellence in Therapy and Water Planet to provide a child with special needs and their family the unique opportunity to experience the magic of dolphin encounters with our specially designed aquatic & land based therapy program. The whole family is encouraged to participate in the program, during which the enrolled child receives multiple one on one OT & PT aquatic therapy sessions, body massage with Myofascial and cranio sacral therapy, art therapy, and group music therapy. In a typical 5-day program a child will receive up to 27 hours of therapy. Though intense the whole atmosphere is casual & relaxed, while at the same time very busy. The whole program is very life enriching, impacting, memorable, and truly therapeutic for all.
Although Excellence in Therapy and Water Planet's efforts and staff are combined, the costs & charges are separate. The individual one on one therapy sessions can be billed to the child's private health insurance. EiT handles all billing & invoicing for the therapy services they provide. Water Planet bills the families separately for the expressive art and music sessions, for the Watsu and massage therapy services they provide, for the dolphin encounters and the education about wild dolphins and for the local coordination. Lodging, food, travel, etc. are paid by the families.
Pam Davidson
---
I wish to pass on to these children my enthusiasm for the incredible beauty of the world of nature, for the mystery of what lays beneath the surface. I want to make this experience available directly and practically to the children, who need special attention because I know that it will nurture and nourish their desire to explore. The sense of adventure in us can get us past inertia through the barriers of inhibition and disability and give us the sense of freedom we are all looking for.
Denis Richard Water Planet – President