Testimonials about our Internship Program
Read a Letter from Taylor University after one of their students completed an internship with Water Planet.
---
Hello Javier
Good to hear from you thank you for contacting me about my experience of the Water Planet internship. I had a wonderful time on the program. Denis and the staff were so knowledgeable and the intern coordinator Chloe was incredibly professional and supportive. Our personal goals were discussed to ensure we would get what we were hoping to get from the program .
I was interested in the whole concept of Dolphin Assisted Therapy and how it fits into the wider concept of Human-Animal Interventions and in particular the therapy and educational aspects of working with vulnerable client groups.
I loved every minute of the internship and practically here are a few things to be aware of:
You will be sharing a lot of time with the other interns.You spend a substantial amount of time in the water and on the boat (regardless of weather ) so I had to get over sea sickness very quickly. Long days (but so worth it !!)
Finally, I am so glad I did this internship – if only for my own personal development it was so worth it and Denis and the team were truly inspirational and amazing – I really made some amazing friends .
Good luck with your studies and thank you again for contacting me.
All the best, Judith
---
Coucou Denis,
Comment vas tu ? La saison a commence ? La famille ca va?
As usual Panama City Beach is always on my mind. since a few month I have been thinking about becoming a therapist to be able to help children with disabilities and anyone else in need of help. I have looked at different osteopathy schools and different programs. The idea of having my own center providing various therapies has grown on me. Thank to you and all the amazing times I had in Panama City Beach I think I found my vocation. I hope you are doing well and I can't wait to hear from you.
Iris
---
Hi Denis and Nathalie!!!
I just received an email from Rachel letting me know that we are on your website for interns and it made me think about when we were there. Doing the internship with you was the best, most meaningful and beautiful experience of my life. I know I told you before I left that I would be back this year, and as much as I want to, I will not have time to do it. I am trying to talk my family into coming down and going out for a few days with you to swim with the dolphins. Rachel and I still keep in touch. She is planning a trip to see me this summer! How are both of you doing? How is Marina and Aisha? Next time you talk to them will you tell them than I said Hi! I should get back to my homework now, but I just wanted to write you a letter and let you know a little of what is going on. I hope everything is going great for you!
Lindsay
---
TESTIMONIAL BY LAURA ERICKSON FROM MASSACHUSSETTS.
LAURA ATTENDED A ONE-MONTH INTERNSHIP WITH WATER PLANET.
THIS LETTER WAS SENT BY LAURA ERIKSON TO A POTENTIAL APPLICANT IN RESPONSE TO AN INQUIRY ABOUT THE WATER PLANET INTERNSHIP PROGRAM.
Hi Erica,
I'm glad you wrote! Any subject line that says "Water Planet" brings a smile to my face.
Water Planet is AMAZING. It was one of the best experiences of my life. I have done many cool things too, but this really stands out. I will start by saying that if you have an interest in dolphins at all, if you are interested in dolphin assisted therapy, if you like the ocean, if you like children ….. any or all of those combinations will be a YES YES YES for you to not even hesitate. First of all, the staff at Water Planet are amazing people. Denis and Nathalie are the sweetest people. I wish that I lived closer or I would have dinner with them and frolic in the ocean with them every now and then. Instead, I know that they are friends for life and if you chose to do this internship, you would be too.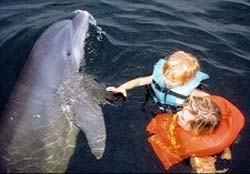 So, everyday….(I believe it was everyday….it's been a number of years since I was there but at least 6 or 5, no, it has to be at least 6 days of the week…you are on the ocean. You are interacting with a special child….most likely with special needs. Some days you might be assigned to play with the main child's sister. Others, you might be the head person to hold the special needs child (with appropriate floatation devices) in the water as the dolphins swim around you, checkin' you two out. Other days, you might now be holding that one child but you would be swimming next to them….watching, getting scanned and checked out by the dolphins while you watch what the dolphin are doing and how the child is responding. Other days, you might be assigned a waterproof writing tablet and be asked to record the data. And on others, you might be looking around wondering why all the jobs, so to speak, are taken up that afternoon on the boat …as there are other interns as well as you!….and you might watch from the boat… keep watch for dolphins…..giggle and laugh as everyone enjoys heir experience and maybe Denis will say.. go ahead….jump in….go swim…have fun!
On the boat, when no one is in the water…your purpose is to make sure that the families are comfortable …chat with them…help them with the life vests…..take notes…..take in the view….observe….learn ….and share in the anticipation of their time in the water.
Off the boat, you will spend time with the children as they have music therapy, art therapy, massage therapy, watsu…(water therapy), etc…. what will probably happen is you will prefer one over the other…for example…
I loved the art therapy! So, when it came time for the land therapies, I would hang out with the art therapist intern and with Nathalie who also conducts these sessions. I would help out, learn, paint fish (Blech!) for fish prints….you will find out what you gravitate towards.
Other times, you will be assigned a child for the week. I don't know if they are still doing it that way but sometimes a family would come over….usually from Europe…with the child and siblings. Other times, a bunch of children would come over with chaperones. I was assigned a little boy names Anthony. He was so sweet. He spoke French. I knew a little and it was fun to try and converse with him. I'll never forget him hanging off the side of the boat yelling with his little french accent "FLIPPER!!! FLIPPER!!" I was practically holding his feet from him jumping overboard!! LOL So, it was my responsibility to keep a close eye on him at all times…to make sure he got from one place to another, to show and explain things to him to the best of my ability, and to be right with him in the water with the dolphins.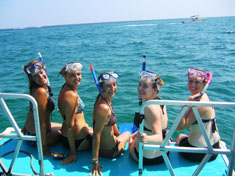 You asked about the language barrier. I am not bilingual. I had spoken a little french and that in combination with a dictionary….it was fun! At times, it's a little awkward, yeah, but most of the time, it would just make you giggle as you both were trying to convey something. Like, if you have ever played pictionary and you end up laughing because you can't get it across!! Someone always speaks a little of something or someone is fluent nearby so it's never a problem. They are not going to send someone over from the depths of the African forest with no means of communicating and no translator and not dictionary. LOL
Looking back at your questions…so yeah, you were in CLOSE proximity to the dolphins DAILY!!!!!! It's not like …ah…I might see a dolphin this week….they are there and they are awesome! They are also animals and we are in their home. SO, if they don't feel like coming around sometime, they might not….and sometimes they don't but that is where we learn to respect them even more and to appreciate the times when we are right with them!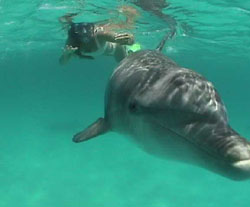 My favorite times were swimming with the dolphins…being in the crystal blue/green water…..laughing with and actually helping these fabulous children….meeting lifelong friends that love all these things just as much as I do…..watching children actually change and grow from the week they were there! I swear it's amazing. The Dolphin Assisted Therapy (DAT) actually works! You will read things where people might classify it as "hoakie." And then you will see change before your very eyes and you know that there is no argument that dolphins can actually help humans! Because you have seen it! The first boy we had, was pretty paralyzed from something that went wrong when he was 3 from the chicken pox. He came , stiff as a board….he would smile and laugh….but could barely just move his arms ad hands. He would look all around and watch the world with wonder. Well, to make a long story short, the family had to puree all his food and it was a lot of work for them. He was 10. When they left, one of the many changes after ONE WEEK with the dolphins and all the other therapies was he could BITE into hard food and chew and he could SIP out of a straw!!!!!!!!! Imagine the difference that made for the family! IT was amazing! Oh, and when he left, he was stiff like a surf board no longer..his legs were bent at a 45 degree angle!!!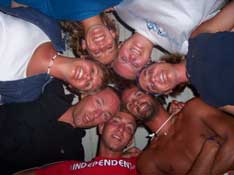 As far as how many hours a week were were required to work….it wasn't work….ya know? It was YEAH LET'S GO! Mornings and then afternoon session and sometimes at night there would be a cookout or something. Trust me, we had plenty of time to cause trouble! LOL We went out in Panama City at night to clubs, went and got our tongues pierced (which was stupid as I could talk for two days…good Lord) , some went bungee jumping, went shopping, swimming in our back yard, flirting with the dock boys, parties with the dock boys, and one weekend, 4 of us even drove to New Orleans!!! We stopped in like 3 or 4 states on the way and stayed 2 nights, in New Orleans and hung out on Bourbon Street for the 4th of July! One night I remember we went for a sunset boat trip with Denis and Natalie with wine and cheese and watched the dolphins swim in the surf as the sunset.
I cannot say a bad thing about the whole experience. It is SO worth every penny and you will never, ever forget the summer that you spend in the ocean, with children and dolphins at Panama City Beach. Go do it girl… …when you look a dolphin in the eye underwater, in the wild, in their home…I promise you, you will never be the same again.
With dolphin love,
Laura