Dolphin swim programs for children with special needs
Water Planet's Harmony Program caters to children with emotional and mental challenges with sensory integration issues or simply with social adaptation difficulties. Some of the children, who went through our program were in the Autism Spectrum, Down Syndrome, ADHD or had serious behavioral issues without a specific diagnosis. Several charitable non profit organization and foundations send us children and families. Make-A-Wish Foundation has trusted us for the wishes of several children. We also work with Happy Dolphins Encounters, asbl in Brussels, Belgium, A World of Dreams Foundation in Montreal, Canada, Les Petits Princes from Paris, France. Watch their 2011 adventure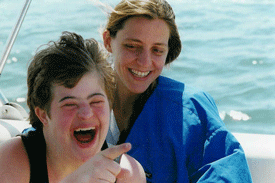 We also have had children with terminal diseases like Cystic Fibrosis, cancer, Leukemia or other. The experience we offer to those children combines the emotional impact of wild dolphins encounters with various disciplines like expressive arts, bodywork and music. Our goal is to make an experience available to these children (with or without their family), which will enrich them and help them open up to their social environment through the attraction they feel for dolphins and the excitement with which they approach marine life and the mysterious world of the ocean in general. To swim with a dolphin is for most kids a dream which only few will realize. The proximity of these magnificent animals will inexplicably bring joy to almost anybody.
A dolphin encounter in the wild is an extraordinary experience. The adventure of being face to face in the ocean with a large and wild air-breathing mammal is a powerful one that will not easily be forgotten and that is only given to a minority, especially in our society, where we are mostly living in a controlled environment without direct contact with the wilderness. A wild dolphins is a symbol of freedom. He triggers in us these feelings of joy, excitement, wonder, sometimes awe, even rapture for some. Therapy with dolphins deals with using the strong emotional release of this experience to disrupt social barriers and inhibitions.
In Panama City Beach, we have the incredible privilege to have a continuous relationship with a group of wild dolphins. This close contact has been going on for over 30 years. It is partly associated with hand feeding of these mammals by sports fishing boats and tourists. Our organization is proud never to have fed them and we make a point of informing every participant to our programs of the hazards associated with feeding wild dolphins. It is illegal to do so since 1993.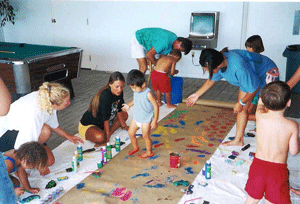 This program is made available to families thanks to a team of professionals in the fields of: psychology, bodywork, special education zoology, biology and marine ecology. As a Reference, the Water Planet staff has been facilitating programs for groups of up to 10 children since 1997. The Water Planet team can conduct programs in English, French and Spanish. Interns from various universities, who are volunteering to gain experience, supplement the permanent staff. We are pleased to announce this year's therapeutic dolphin swim program. This special "journey" is designed to provide an experience of therapy, fun, dolphin encounters, social time, and some RR to enjoy the beautiful beaches of Panama City Beach.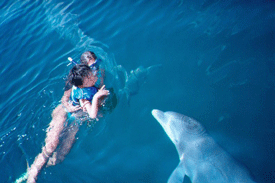 We believe that the existing relationship between the local population of wild dolphins and humans in our area is not exclusively the result of provisioning but that it is also based on keen curiosity. The dolphins investigate us as much as we investigate them. They often interact with us through play. We have been getting in the water with them since 1994 and we have built a special relationship with some individuals, who approach us on a regular basis. We are taking advantage of this precious opportunity to introduce children and their families, who all open up in amazement. We have noticed a significant improvement in communication skills with children who have participated in our program.
Water Planet will be conducting several sessions during the summer of 2023.
The following sessions are still available:
June: 10 to 17
August : 5 to 12
Email