Here are answers to frequently asked questions about our Dolphin Swim Tours and Sunset Cruises and Swims to Shell Island. If you have questions, please contact us.

We encourage parents to bring their children because respectfully experiencing wild dolphins in their own environment can influence your children's future attitude and choices toward wildlife and natural resources. They will certainly be able to make the difference between this incredible adventure and a petting pool or a dolphin show in a captive environment. For most, it is also a once-in-a-life-time experience.
We have no age restriction but we suggest that you set your priorities first. If you want to take small children with you, either take someone along that will look after them while you are in the water or take them in the water with you, which as you probably know, will restrict your own experience.
By request and based on availability, we also have specially trained staff to help with your kids' in-water experience May through August.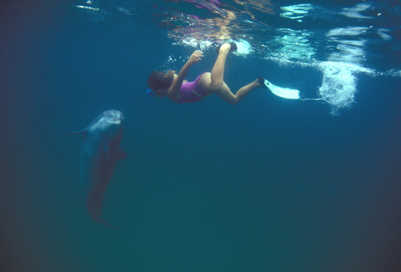 There is no "better time". Both dolphin swim tours are great to observe and to swim with the wild dolphins of Panama City. So many factors can influence wild dolphin's behavior and whereabouts that it is practically impossible to predict in advance. Wild dolphins are influenced by meteorological conditions, seasonal changes, moon phases, tide cycles, air and water temperature, wind speed and direction, availability of prey, etc.
Typically (and this is not a rule), the seas can be calmer in the morning and the visibility may be better at high tide. You may see more feeding activities during your dolphin tour at the end of the afternoon on an outgoing tide. But as with any other wildlife experience, patience and flexibility will pay off. Start with low expectations; the sky is the limit. If you are traveling from Ft. Walton, the Destin Santa Rosa Beach area or 30A, and you have teenagers, you might want to do the afternoon Dolphin and Snorkeling Tour to avoid having to get up early.
Due to limited space on our dolphin tour boats (6 passengers), priority is given to those, who pay full price to swim with the dolphins. You do not have to get in the water if you do not want to. Watching from the boat is often as much fun as to swim. You will also most likely enjoy walking on Shell Island to collect seashells.
All wild animals can be dangerous if, by ignorance, people put themselves in situations where they can become a victim. We have been with the wild dolphins of Panama City since 1995. We have taken out thousand of guests and none of our guests or staff have ever been attacked and/or hurt by a wild dolphin. It is because we make sure that you understand what you can and what you cannot do during our dolphin tours.
We will make sure that you understand and follow our guidelines because they are there for your own safety and enjoyment.
Even though you probably will be within arm reach of the animals during your dolphin tour, you will be asked not to touch them. If petting dolphins is what you need to do, you should visit a captive facility where you will be lead to believe that dolphins have chosen to be there to please you, that dolphins like you, that they enjoy being petted and where they are fed dead fish as a reward for performing all kinds of neat tricks for your pleasure.
It is also illegal to feed dolphins in the wild. Feeding is at the core of most of the problems and accidents occurring during recreational human/wild dolphin interactions. It is a very complex issue and enforcement of the law is difficult because of the variety of sources and locations the dolphins are used to getting their handouts from (commercial and sports fishing, tourism).
If you are looking for the opportunity to get to know a wild dolphin in its own environment, we would be more then pleased to help you realize that plan on your dolphin tour. But you need to understand that wild dolphins are not there to entertain you or to please you. They do not necessarily like to be touched unless they feel like it. They have an agenda with certain needs just like us humans.
You will need to adapt to their schedule and needs since you are the ones, who want to meet them. There is no place in the US where you may touch wild dolphins. It is illegal and considered as harassment. Not only is it illegal, but also totally inappropriate and presumptuous.
Dolphins are known for their curiosity and playfulness. They will approach boats and swimmers. You will never be able to swim like a dolphin no matter how hard you try or how good a swimmer you are. Occasionally some of the dolphins will swim around you, behind you or ahead of you. They may even be interested in swimming with you, but as far as the statement "I swam with a wild dolphin", it is a very subjective one.
Dolphins are tremendously powerful and fast in the water. When you see them around you, it means that THEY want to be there. They are interested in you or they tolerate your presence until they decide to swim on. Typical encounter time on our dolphin tours is usually short (under one minute) and depends on the level of interest and on the mood of the animals. Though we have had many encounters that lasted over 30 minutes.
Typically, there will be repeated opportunities of in-water encounters on your dolphin tour throughout the morning/afternoon. Of course we cannot guarantee that the dolphins will be there or that they will be interested in approaching you but our success rate is excellent (99%). We feel confident enough to replace your dolphin tour if the dolphins don't show.
We will not chase the dolphins or interrupt their activities (feeding, courtship, nursing, etc.) because you want to swim with them. We understand that you have invested resources to encounter wild dolphins, but even if the dolphin's reputation is to be friendly, we are not going to assume that we are always welcome to approach them. The encounter has to take place on the dolphins own terms.
Wouldn't you want to know as much as possible about wild animal behavior before venturing out into their territory? Of course you would. You will then be able to safely experience their presence because you know the limits of their comfort zone. It is kind of sad to realize that a real and genuine interest in a wild animal is rare and that very often, humans seek interaction with wildlife for their own pleasure, looking for instant gratification without introduction or preparation. This behavior may lead to accidents and injuries.
We will give you the information you need about wild dolphins to allow for a respectful and safe encounter. We have been introducing people to wild dolphins since 1995. We have taken thousands guests out on our dolphin tours. We have never had a single person hurt by a dolphin or hurt a dolphin and we are planning on keeping that excellent record the way it is. Even if you do not get in the situation where one or more of the animals show interest in you in particular or if dolphins do not try to approach you, you will still be close to them. Give them the space they need.
Our encounter success rate is about 98%. In our opinion, we have the rare opportunity to approach and to be approached by these fabulous marine mammals. Let us enjoy and keep this privilege while it is still there by showing interest and concern for their communities and for their environment.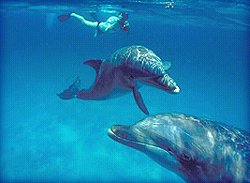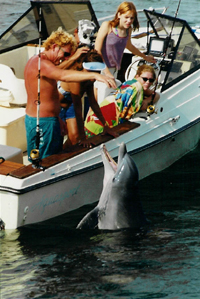 We will get you as close to the dolphins as possible (without harassing them) and you will have the opportunity to get in the water. Since the dolphins are always in movement, it is not easy to predict how long they will stay around you. This will depend on their mood, the nature of their activities at the time and the level of interest (if any) they have for you.
You may stay in the water until they leave the area and this is typically between a minute or so up to 20 minutes occasionally. When the dolphins leave the area, we get you back on board and move the boat to a different location. Since we do not feed the wild dolphins during our dolphin tours (it is illegal and dangerous to do so), we cannot keep them by the boat without their consent.
Did you drive to the dock? Do you drive to go to work? Do you know what the odds are of you getting injured in a car crash versus getting injured in a shark attack? In average, there are in excess of 30,000 fatalities on the road in the US yearly. But you are not overly concerned about driving!
Since we have started our dolphin tours in 1994, no one was ever hurt by a shark off of our beaches and we have roughly one million swimmers yearly in our area.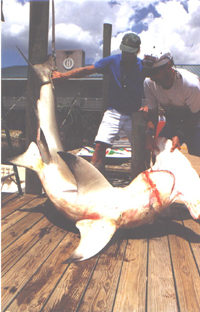 The bottlenose dolphin population of the Panama City area is found mostly in shallow water. They feed along the beaches and inside the bay. During our dolphin tours, we are almost always within 100 to 200 yards of the beach in 3 to 30 feet of water.
There is a big difference between 3 and 7 feet because most people can stand in 3 feet of water but not in 7 feet. As soon as the water is over your head, be it 7 or 700 feet, you are in deep water.
Should the National Weather Service issue a "Small Craft Advisory" for the time of your tour, we will cancel your dolphin tour and you will have the choice to reschedule or cancel for a refund.
If the dolphin tour departs and we must return within the first half of the tour due to hazardous weather, we will issue a refund prorated up to 50% of the tour value (by written request only — email or post).
When you swim off of a boat, as a swimmer, you will not be affected by currents since the boat is drifting as fast as you are. We do go out even when there is one red flag unless a small craft advisory is issued by the National Weather Service or unless we decide that the experience will not be satisfactory. In which case, we cancel the dolphin tour and you have the option to reschedule.
It is rare that customers get seasick in normal conditions. We use wide pontoon boats, which are very stable. Eat light before your tour or if you know you are prone to motion sickness, use medicine before your tour.
You do not need to be an Olympic swimmer to participate to our dolphin tours. As a matter of fact, we have taken out numerous children with serious motor disabilities to swim with the dolphins. Several of them did not know how to swim.
We have flotation that you can wear on the boat and in the water. Dolphin swims are not done in scuba gear, just snorkeling gear. If you are not comfortable with a mask, you can wear goggles. But your experience will be so much more interesting if you can see underwater.
We do not have specific restrictions for pregnant women. We offer a boating and snorkeling experience and you should be physically fit. You do not need to be a strong swimmer. You will be wearing a life jacket. Common sense and caution should dictate your decision.
Consult with your OB/GYN provider to see if you can snorkel and swim off of a boat at your stage of pregnancy. Our ladders are deep for easy exit from the water. We do not allow our customers to have any physical interaction with the dolphins.
A "wet lab" is an activity taking place in shallow water where by request, Water Planet staff and guests alike (conditions allowing) snorkel the sea-grass flats to collect various forms of marine life: crustaceans, mollusks, fish, etc., which are brought back on board for viewing and identification. All live marine species are then released to their environment before your dolphin tour leaves the area.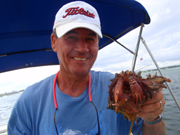 Yes, there is time for snorkeling. Depending on the conditions and visibility in the water, we snorkel different locations:
The "jetties" where you will see an abundance of different fish species (only done when the water is clear).
A shallow water (10 feet) shipwreck.
The shallow water seagrass beds (between 2 and 6 feet) for hermit crabs, blue crabs, sandollars and other bay-water species.
We use three 6-passengers boats: two 26-foot pontoon boat with a 150 horse power outboard, and one 26-footer with a 250 hp, and one 24-foot pontoon boats with 90 hp outboard.
All have double shades. Since they are wide, spacious and stable on the water, pontoon boats are the most practical vessels for this type of activity. The deep dive ladders, make it so much easier to get back on board from the water. We can carry a maximum of 18 passengers at a time on 3 boats. We will send several boats side by side for large parties.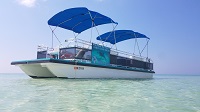 You may of course bring your own camera equipment and take pictures or video top side and underwater during all dolphin tours.
By request and based on availability, we can also implement our dolphin tours in Spanish, French, German and Italian.
We work with The Inn at St. Thomas Square to offer you the best accommodation close to us. Click here to learn more.