"On wild dolphin provisioning – Strategies to limit wild dolphin harassment in Panama City, Florida" – The BADTOFEED Program
Bad To Feed is an effort by Water Planet to address the problems caused by tour guides hand feeding wild dolphins in Bay County between 1994 and 2013. In April 2013, Water Planet designed and organized a training course/seminar with the participation of, the Florida Fish and Wildlife Conservation Commission, NOOA Enforcement Division, Ron Hardy of the Gulf World Marine Institute, Kristin L. Stewart PhD, Dan Rowe of the Tourist Development Council, Ted Davison of Marine Max, Jesse Deese of Emerald Coast Audio Visual and Erik Gerace of Beachlife Design. All the dolphin tour operators and their staff were invited to participate. The results have been obvious. The provisioning of wild dolphins by tour boats has decreased drastically since the inception of the program. No tour boats are feeding wild dolphins any longer.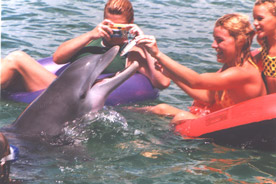 Wild life experience or circus?
Since 1994 Water Planet has been campaigning against the feeding and petting of dolphins in the wild. This practice throws off the natural distribution of the animals in a given area. The dolphin count will increase in the provisioning areas and the animals will become "captive" targets. They will generally stay until no more food is being handed out. People will pet them, grope at them, and try to hang on to their fins. The animals can become pushy and aggressive. Distracted, they are exposed to propeller injuries and fishing gear entanglement. Females with calves transmit the habit to their young.
Do not feed dolphins in the wild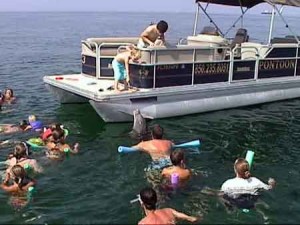 BADTOFEED is an acronym. It stands for Bay Association of Dolphin Tour Operators For Environmental Education Distinction
Visit the BadToFeed Website The program is no longer in effect and the original website has been copied over to this site as an example only. Some of its functionalities have been deactivated.
Please help by passing around and by sharing on Social Media